Commercial
Nutmeg Mechanical Services offers many preventive maintenance plans for our commercial customers. We can include filter replacements, control and safety inspections. We always try to save the customer on their utility costs by advising of new products. With our computerized design and estimating software, we can guide you through new construction, replacement and plan and spec work to suit your application. As always, comfort levels, high efficiency equipment, return on investment and prompt service are all goals of the Nutmeg team.
---
Some of our commercial clients include:
Town of Ashford
Town of Hebron
Town of Manchester
Town of Columbia
Eastern Ct. Health Services
Gengras Auto Group
Aldrich Construction Co.
Andrew Ansaldi co.
United States Postal Service
Chick-Fil-A Ct.
Cafe Aura
---
Some of the fine products we offer:
48HC WeatherMaster®
Single-Packaged Rooftop Units
High-Efficiency
Gas Heating / Electric Cooling
Puron® (R-410A) Refrigerant
3 to 25 Nominal Tons
48HC WEATHERMASTER® rooftop unit were designed by customers for customers. With a gauge plug, centralized control center, plug & play accessory board, "no-strip screw" collars, and handled access panels, we've made the unit easy to install, easy to maintain, and easy to use. Units are pre-wired and pre-charged with environmentally sound Puron® (R-410A) refrigerant at the factory. The units are factory tested in both heating and cooling modes.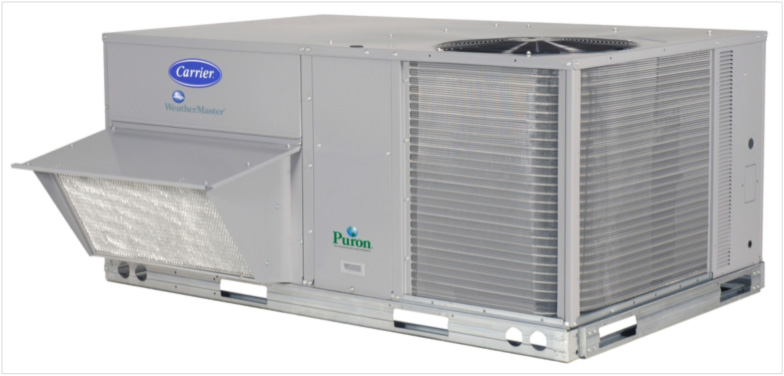 Performance Features
ASHRAE 90.1 and Energy Star compliant
Up to 15.6 SEER, 13.0 IEER, and 12.2 EER
Gas efficiencies up to 82%
Standard cooling operating range up to 125 °F (52°C) and down to 35°F (-2°C). Low ambient controllers can bring cooling operation down to -20°F (-29°C)
Innovative non-corrosive composite condensate pan in accordance with ASHRAE 62 Standard, sloping design; side or center drain
Exclusive IGC solid-state control for on-board diagnostics with LED error code designation, burner control logic and energy saving indoor fan motor delay
Pre-painted exterior panels and primer-coated interior panels tested to 500 hours salt spray protection
"Our people share a commitment to customer satisfaction, quality and craftsmanship."